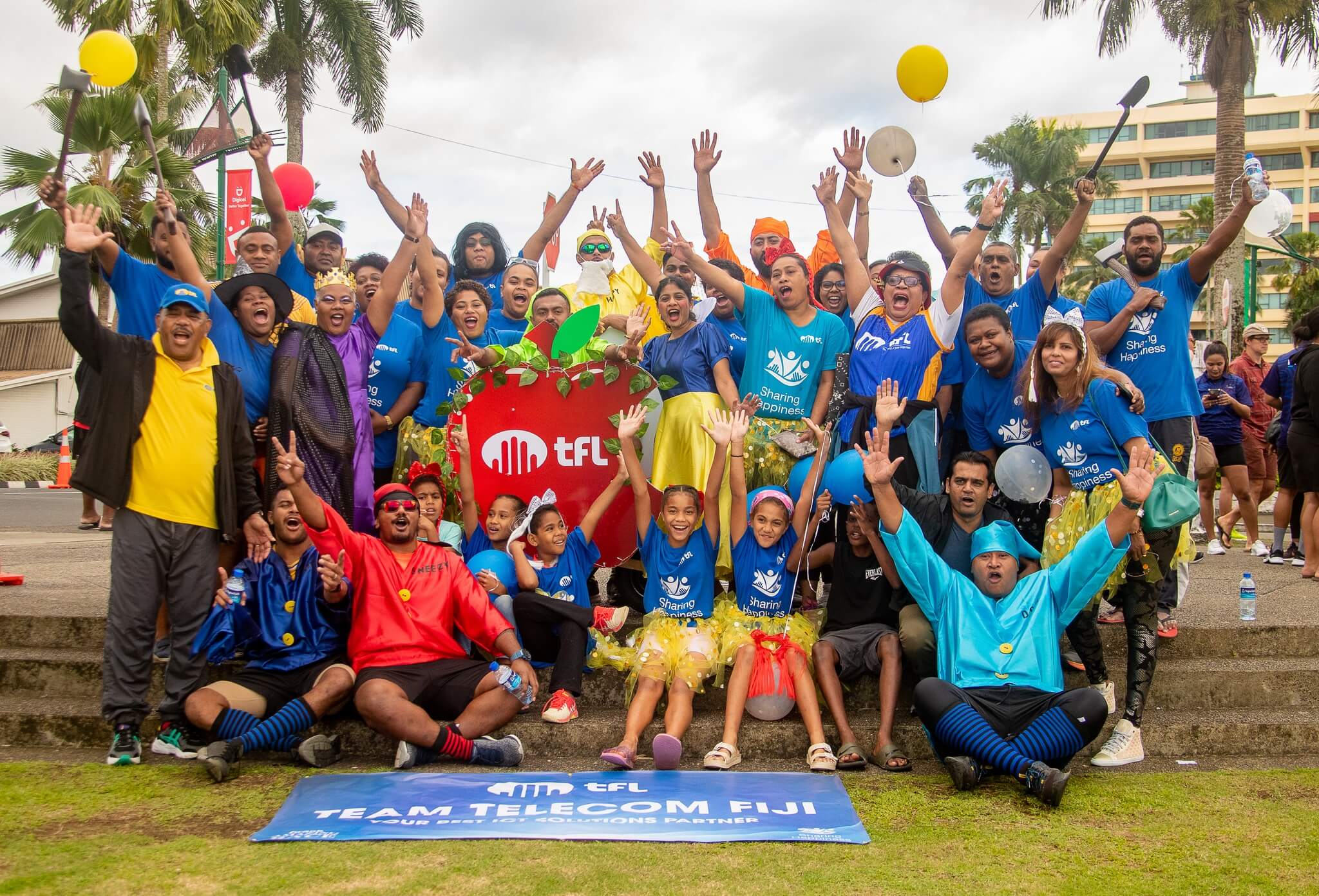 [Suva, 1st August, 2023] – Telecom Fiji continues to show support for the Frank Hilton Organisation Charity Wheelbarrow Race 2023, demonstrating its unwavering dedication to social responsibility and community engagement. The event, which took place on Saturday, 29th July, aimed to raise funds for the education and services provided to children with disabilities in Fiji.
With a firm belief in making a positive impact on the lives of those in need, Telecom Fiji wholeheartedly participated in the physical wheelbarrow race and raised funds separately to the cause.
The staff at Telecom Fiji demonstrated their dedication to the cause by organizing various innovative fundraising initiatives, fostering team bonding while raising funds for a meaningful cause. Food sales were organized, where staff members cooked and sold an array of delicious treats, enticing the entire offices to participate wholeheartedly, staff members generously made personal donations, and Kati sales.
"We are immensely grateful to the Frank Hilton Organization for giving us the opportunity to contribute to this profoundly meaningful cause," said Charles Goundar, CEO of Telecom Fiji. "As a local company, we hold a strong belief in giving back to our community, and I am proud of our team for showing such dedication to uplifting the community we serve."
Beyond their remarkable dedication to fundraising, Telecom Fiji's team members also showcased their creativity and camaraderie by clinching the title of Best Dressed Team for an incredible 7th year in a row at the 2023 Wheelbarrow Race. Their eye-catching costumes and enthusiastic spirit added a vibrant touch to the event, earning them well-deserved accolades and reinforcing the strong bond shared among the staff.
"We want to express our sincere gratitude to the remarkable team at Telecom Fiji for their unwavering dedication and invaluable contributions during these significant occasions. The Wheelbarrow Race stands as a powerful platform for us to champion child rights and advocate for children living with disabilities and their families. We are profoundly appreciative of organizations like Telecom Fiji, whose active and consistent support towards our cause every year has been instrumental in ensuring continuity of our services in communities. The commitment shown by TFL is exemplary, and we eagerly look forward to the continued support from other esteemed organizations, as together, we can create an even more profound and lasting difference in the lives of those we serve", Sureni Perera, CEO of Frank Hilton Organization.
Telecom Fiji takes great pride in its association with the Frank Hilton Organization and reaffirms its commitment to continue supporting such remarkable causes that bring about positive change in the lives of children with disabilities in Fiji.
The Wheelbarrow Race is just one of the many avenues through which Telecom Fiji actively supports and uplifts the community. The company remains dedicated to partnering with various charitable organizations, extending a helping hand to Fijians across the country.