BROADBAND
The future of broadband is here. Enjoy a faster, more reliable online experience in the comfort of your home. Choose from broadband plans that are packed with data so you can browse, download and stream – without the stress.
WE'LL CONNECT YOU TO THE WORLD
Introducing Telecom Experience
There's a world of things to explore and do online. Browse for fun and learning, download for entertainment or stream for inspiration, the possibilities are endless.
We offer Fiji's only ultra-fast home fibre service, delivering quicker internet speeds than you ever thought possible and our Telecom Experience plans are packed with data, perfect for watching movies, listening to music or chatting online with friends and family. If you run out of data – relax, we've made it quick and easy to top-up.
After a wireless service? Signing up to our our new superfast 4G service is quick and easy. There's no need to wait for telephone lines or installation. Just sign-up and grab your modem. It's that simple.
Whatever you want to do online; we've got the perfect broadband solution to keep you connected to the world, without leaving home.
So, what are you waiting for? It's time to join the 100,000 Fijians who're already connected with Telecom Fiji.
why us?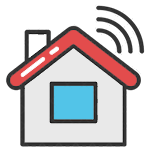 5000%
homes are fibre ready

CONNECT IN FOUR SIMPLE STEPS
Connecting at home is quick and easy. Our team of experts will have you up and running in no time.
PICK THE PERFECT PLAN FOR YOU
Fibre
From$41.15
per month
Transform your online experience with ultra-fast speeds – up to 150 Mbps for downloads, and up to 40Mbps for uploads.
ADSL/VDSL
From$15.83
per month
We have the best broadband deals in town up to 20 Mbps for downloads, and up to 1Mbps for uploads.
4G+
From$58.03
per month
With 3 options to choose from (pre and post-pay) there's no need for a telephone line and no waiting for installation – set-up is instant.

Get more with us
Life's busy. You need smart solutions to help keep you moving. Luckily, we've got loads of extras to transform your home and your life.

Contact Us
Our customer services team are here to answer your questions and help you pick the perfect plan for your needs. Give us a call or send us an email today. We're look forward to hearing from you.