Moments Café provides free WiFi for patrons, powered by Telecom Fiji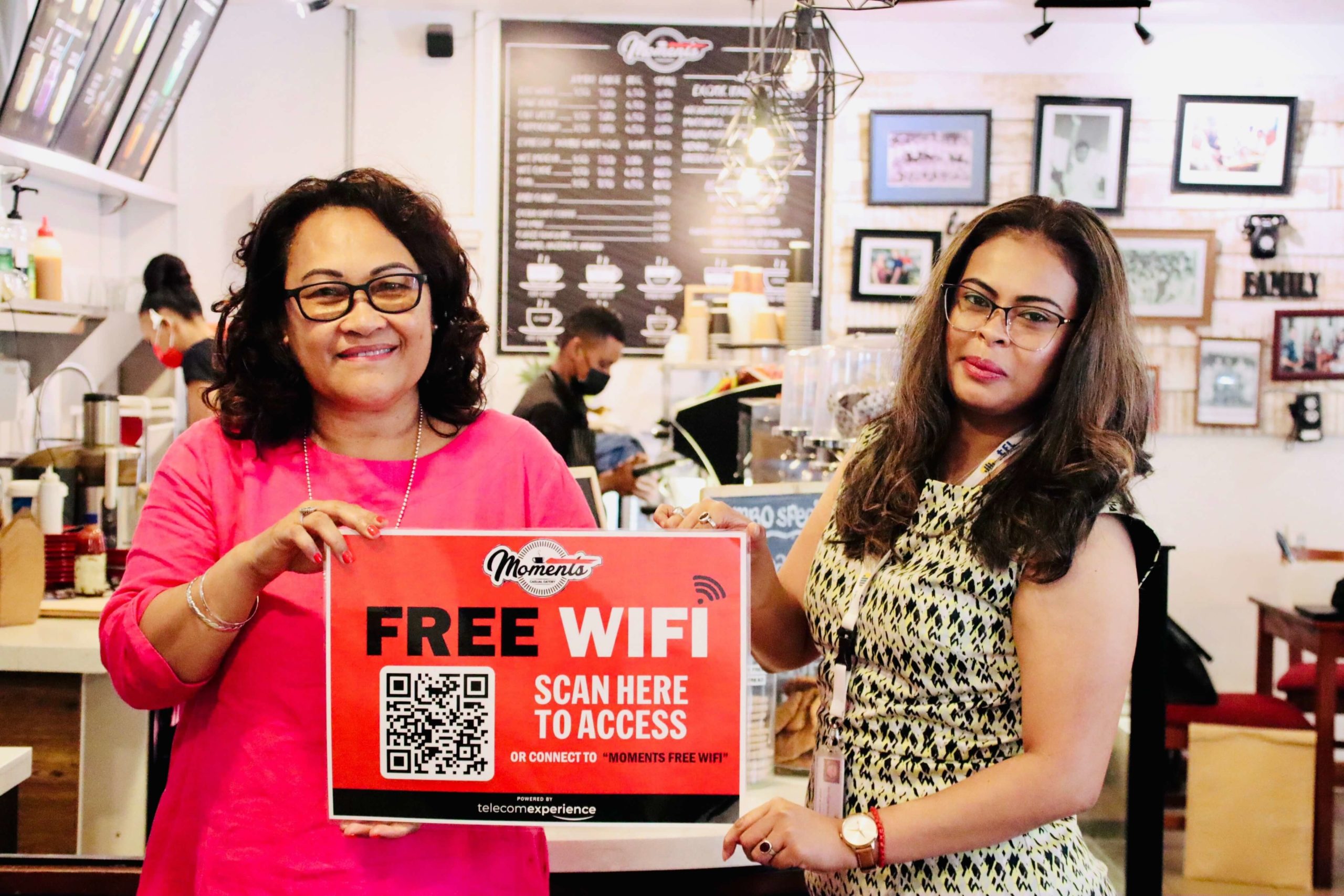 Telecom Fiji, the leading ICT Provider in the country, is working together with Moments Café in Suva to provide its customers with WiFi access, and free for 30 minutes. Customers can use the WiFi services to access the internet whilst enjoying great food and coffee.
The Café and bar has been operating for more than four years in the heart of Suva, and now offers it's many customers free WiFi access at the premise.
Moments Café Manager, Mrs. Fidelis Ah Sam, states that she is proud to serve her customers and always strives to maintain a high level of service to keep her customers happy, which means investing in what they need and that is to stay connected online wherever they may be while enjoying Coffee.
"The WiFi internet has become a value-added service for Moments Café, whether people are just trying to keep up-to-date with news, or working from the coffee shop, we offer 30 minutes free to all Café customers" added Mrs. Ah Sam.
Telecom Fiji Limited Manager Marketing, Ms. Berlinda Williams, states that the Company will continue to provide digitally enabled products to positively impact how businesses serve their customers.
"The offer of free WiFi is important for social coffee shop visitors who want to stay connected with friends and family, and it is also a popular choice for professionals who prefer to carry out their digital tasks in the busy surroundings of the café" added
Ms. Williams.
Launching the free WiFi internet access to Moments customers demonstrates that the managed WiFi solutions provided by Telecom can be specifically designed for coffee shops, restaurants and other service businesses.
"We are very pleased that a popular, highly regarded Café in Suva has selected Telecom's Managed WiFi Solutions to facilitate internet connectivity for its patrons" added Ms. Williams.
The Telecom Managed WiFi Solutions is a cloud based technology of great possibilities which connects various devices into one network, and provides reliable WiFi access for internet users.