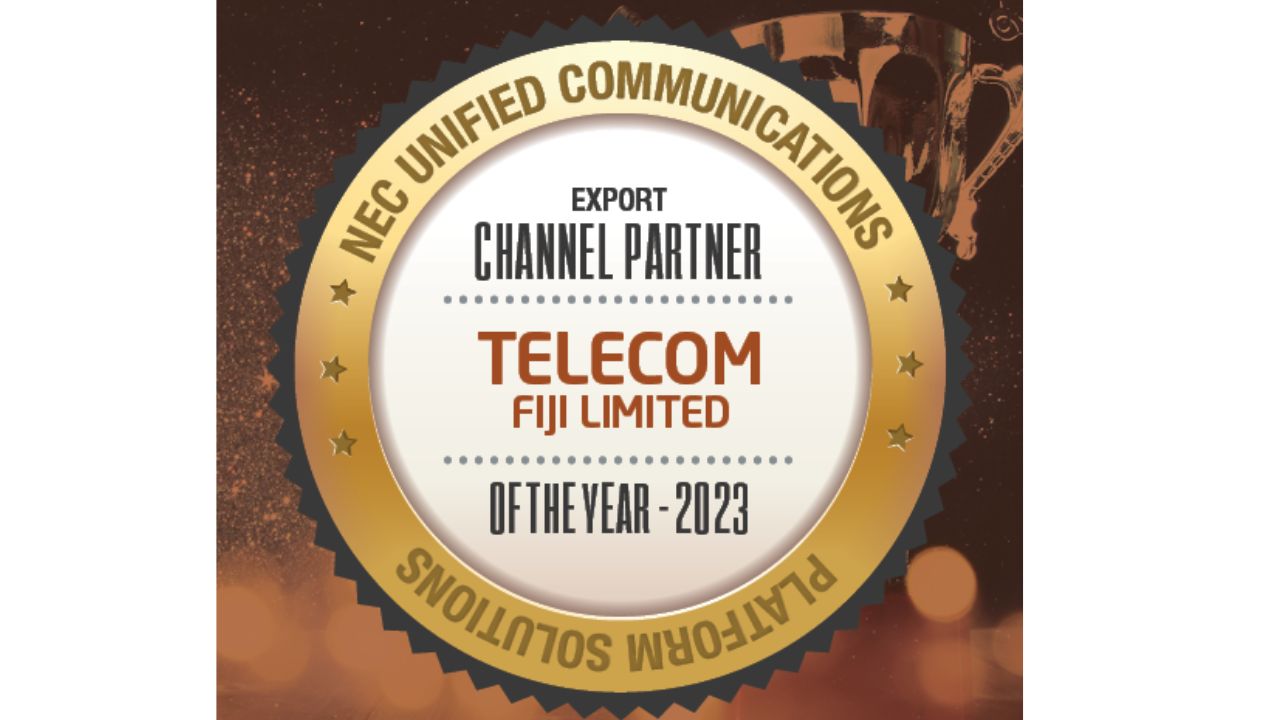 Telecom Fiji has received NEC's prestigious Technology Channel Partner of the Year award for Unified Communications Platform, for the Oceania region. The award recognizes Telecom's strong capability in providing cutting edge and innovative enterprise solutions in the unified communications and collaboration space.
NEC announced that the Channel Partner of the Year Awards acknowledges NECs top performing partners and recognizes outstanding performance in sales revenue, collaboration, and strategic growth initiatives.
The Channel Partner of the Year award is presented annually by NEC Australia, a leading tech company, offering innovative solutions in IT, communications, and networking. As a leading provider of Unified Communications, NEC relies heavily on its partnerships to deliver a comprehensive suite of UC and Contact Centre solutions to businesses across Oceania and Fiji, which have become integral components of digital transformation initiatives for many businesses with the rise in remote work and virtual collaboration which is essential here in Fiji.
This award recognizes Telecom Fiji's outstanding performance and contributions as a channel partner in promoting and delivering NEC Platform Solutions to customers both domestically and in international markets.
Mr. Charles Goundar, CEO of Telecom Fiji, expressed his gratitude for the award, saying, "We are honored to receive the Channel Partner of the Year award from NEC Australia. This recognition is a testament to our team's hard work, commitment, and expertise in delivering NEC's range of unified communications solutions to our business customers. We are proud to partner with NEC and are committed in our efforts in providing cutting-edge telecommunications solutions to the business community in Fiji, and help our business customers in their digital transformation journey."
NEC Australia Vice President – Sales, Mr. Sam Iacono congratulated Telecom Fiji for being announced as the Channel Partner of the Year for NEC Platform Solutions (Export) for the Oceania Region. "Telecom Fiji is a trusted and leading telecommunications partner in the region. The award is fantastic recognition of their ongoing dedication to their customers and a commitment to providing innovative and effective solutions using NEC technology," said Iacono.
This esteemed award reaffirms Telecom Fiji's position as a reliable and pioneering telecommunications provider in Fiji. With a strong focus on innovation and customer-centricity, Telecom Fiji remains dedicated to delivering high-quality solutions that empower individuals, businesses, and communities throughout Fiji.
About Telecom Fiji: Telecom Fiji is the country's backbone telecommunications network provider in Fiji, offering a wide range of innovative ICT solutions and services to its customers. With a strong focus on delivering cutting-edge technologies and personalized support, Telecom Fiji continues to be at the forefront of the telecommunications industry in the region.