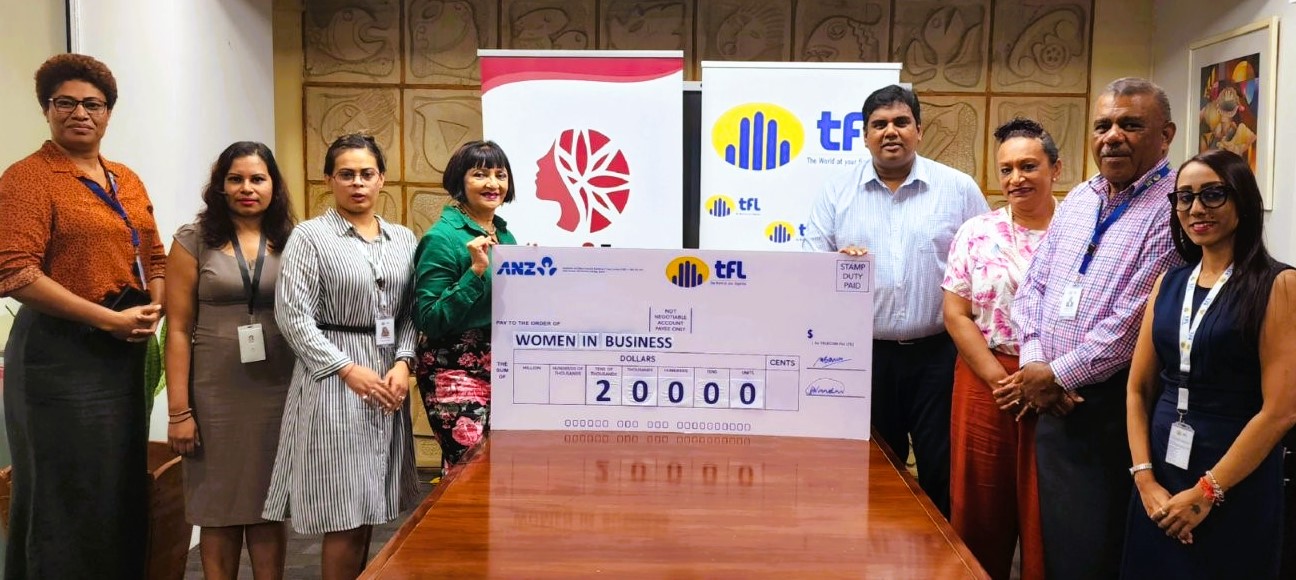 Telecom CEO and management reps presenting cheque to WIB President Dr. Ali.
Telecom Fiji is proud to partner with Women in Business Awards (WIBA) 2022 as a sponsor of the new Woman in Information and Communications Technology (ICT) Award category in what will be the largest celebration and recognition of female excellence in Fiji.
Telecom has committed a value of $20,000 in sponsorship for the annual event which will provide vital recognition of contributions by women who are influential figures in technology across their industry.
"As the leading ICT Solutions provider in Fiji, we believe our partnership with WIBA reflects our commitment to encourage greater participation of women in technical areas such as ICT and engineering. This is the first time Women in ICT category is being awarded and it recognises the outstanding contribution of women who have demonstrated the highest degree of excellence, innovation and leadership in ICT, leading to efficiency and improvements within the organisation they work for" said Charles Goundar, Chief Executive Officer of Telecom Fiji Limited.
"Our Telecom Way sets the standard of behaviour and the values we stand for, and this is embedded into our day-to-day activities, standards, and business practices. We believe that if we celebrate the diversity of our own people, we can empower them to bring their whole selves to work and unlock their potential. Our engineering team has been male dominated but we now have some very determined women in the ranks who continue to battle the odds in effort to maintain gender diversity."
"Telecom's Management Team (which comprises of Executive Management and Senior Leaders) has female representation of 54%. We believe that having more women in leadership positions will ensure more equitable and inclusive representation in executive decisions, and also inspire other women within the organization" said Mr. Goundar
Women in Business President Dr. Nur Bano Ali acknowledged the sponsorship from Telecom and is grateful to have partnered with Telecom for this new category. "The technology community should be proud of this award as it creates and fosters opportunities for women at all levels within their organization" said Dr. Ali.
The Women in Business states that their awards program is supported by incredible partners, industry leaders, and the WIB community who have all committed to rally around this awards year on year to ensure highly successful and promising women get the recognition they deserve.
Dr Ali says that the nominations for the Women In Business Awards are now open and they encourage employers and friends of women to nominate their friends, colleagues or business partners.
The winners will be announced at the awards celebration night held at the Grand Pacific Hotel on 21st October 2022.